We share the most relevant news in technology and startups from November 1 to November 5.
Meta (Facebook) is buying Within, the virtual reality fitness startup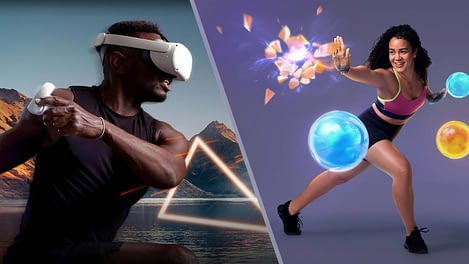 A day after the rebrand from Facebook to Meta, the company announced that it will acquire Within. The Los Angeles firm that developed "Supernatural," a virtual reality fitness app with high-impact cardio.
"We are excited because our partnership with Meta means that we will have more resources to expand, more features, and more social experiences for VR. And of course we will continue to release new workouts every day, "said Chris Milk, CEO of Within.
Financial details of the acquisition have not been disclosed.
Sources: TechCrunch
Driverless Delivery Startup Raises $ 600M and Partners with Google
The autonomous vehicle company, Nuro, has raised $ 600 million in a series D from investors such as Tiger Global Management and Google. This brings its valuation to $ 8.6 billion.
The famous Nuro vehicles will transport anything from food to medical prescriptions. "Nuro is the bridge to an era of autonomous, sustainable and low-cost local delivery," Tiger Global partner Griffin Schroeder said in a press release.
In addition to the funding, Nuro also disclosed a five-year "strategic partnership" with Google Cloud, which it said will support the "massive scale and capacity required to run self-driving workloads."
Source: Morning Brew
10-Minute Grocery Delivery Startup Zepto Raises $ 60 Million
Zepto, a 10-minute grocery delivery company, founded by two 19-year-old Stanford University dropout students, has raised $ 60 million in a round led by Glade Brook, Nexus, Lachy Groom, Y Combinator and Global Founders Capital. .
The new investment will be used to expand its 10-minute hyperlocal delivery across the country, the company said.
Suvir Sujan, Managing Director of Nexus Venture Partners, added: "They are revolutionizing e-commerce in India in a way never seen before, we are very impressed by their innovative mindset and blazing fast execution."
Source: TechCrunch
Yahoo pulls out of China forever
Yahoo has closed access to its services in China, becoming the last American technology company to leave the country.
They withdrew "in recognition of the increasingly challenging business and legal environment," a Yahoo spokesman said in a statement.
Yahoo's departure coincides with the approval in China of a law that restricts the type of information that technology companies can collect and sets standards for storing that information.
Source: El Financiero
To learn more follow us on any of our social networks like @DaCodes 
Listen to our new podcast "Hola Mundo" available on all platforms!