Here are the most relevant news in technology and startups from August 02 to August 06.
Facebook publicly opened the Droidlet libraries and code.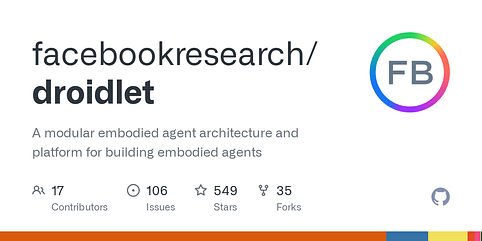 Droidlet is a platform for building robots that take advantage of natural language processing and computer vision to understand the world around them. Droidlet simplifies the integration of machine learning algorithms in robots by facilitating rapid software prototyping.
With Droidlet, robotics researchers can now harness progress in artificial intelligence and build machines that can respond effectively to complex commands.
Source: Morning Brew
Statsig startup raises $ 10.4 million in Series A funding led by Sequoia
Statsig, a Seattle, WA-based platform that lets you take A / B testing apps that fuel Facebook's growth and put similar functionality in the hands of any team so they too can make faster data-driven decisions raised $ 10, $ 4 million in Series A funds.
The round was led by Sequoia Capital with participation from Madrona Venture Group and several individual investors, including Aparna Chennapragada (CPO at Robinhood), Calvin French-Owen (Segment co-founder), Dylan Field (Figma CEO and co-founder), Fidji Simo . (ex-Facebook and CEO of Instacart), Gokul Rajaram (Product Leader at DoorDash), Hadi Partovi (CEO and Founder of Code.org), Jay Parikh (ex-VP at Facebook and co-CEO at Lacework) and Sriram Krishnan ( ex-Twitter and general partner of a16z).
The company intends to use the funds to continue expanding its operations and business reach.
Source: TechCrunch
TikTok is testing a Snapchat-style stories feature
The new feature, simply called "TikTok Stories," seems to work similarly to other story features on apps like Instagram or Snapchat. Stories live in a scrollable sidebar, where they can be viewed for 24 hours before they are automatically deleted. Other users will also be able to react and comment on the story.
TikTok describes the app's function as "a new way to interact." Users can create a new story and add captions, music, and text to it. It seems that the stories can only be videos, not still images.
Source: The Verge
NotCo, plant food startup backed by Bezos and Federer, joins the unicorn club
The Chile-based food tech startup founded in 2015 raised a series D of $ 235 million. The round gave it a valuation of $ 1.5 billion, granting it unicorn status. NotCo uses artificial intelligence to develop plant-based meat and dairy substitutes that are attractive and compelling to consumers.
During the pandemic, demand for plant-based synthetic meat has increased as consumers seek safe and healthy alternatives.
Source: Morning Brew
To learn more follow us on any of our social networks like @DaCodes 
Listen to our new podcast "Hola Mundo" available on all platforms!