Here are the most relevant news in technology and startups from July 26 to July 30.
Apple, Microsoft and Google posted more earnings than expected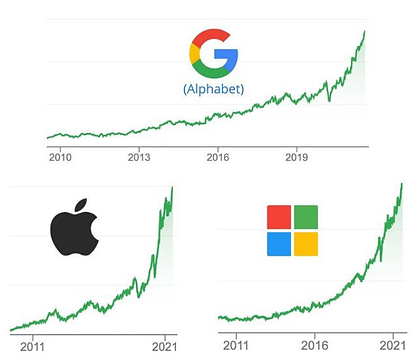 The pandemic boosts the tech giants' quarterly profits.
– Apple, the world's most valuable public company, doubled its profits this last quarter thanks to a 50% increase in iPhone sales.
– Microsoft had its most profitable quarter in history thanks to growing demand for its cloud computing services.
– Alphabet, Google's parent company, commented that advertising revenue increased 69%. The highlight was YouTube – with $ 7 billion in quarterly revenue.
These results come at a time when several tech giants are facing increased pressure from antitrust authorities around the world for their dominance of key economic sectors, which has increased during the pandemic.
Source: Morning Brew
Robinhood's co-founders are officially "Billionaires"
Robinhood, the famous app that allows you to invest in financial markets, debuted on the NY Stock Exchange closing this week with a market capitalization of $ 29.3 billion dollars.
Vlad Tenev, 34, and Baiju Bhatt, 36, launched the first version of their app about eight years ago. With Robinhood's shares at $ 38 each, Tenev is now worth about $ 2.4 billion, according to Bloomberg. Bhatt, who shared the CEO duties until last year, has a net worth of about $ 2.8 billion.
Despite the critics and challenges, Robinhood is creating the next generation of investors.
Source: Bloomberg
Twitter buys Brief, a subscription news app 
Twitter proactively approached Brief with its offer. As part of its current M&A strategy, the company seeks to acquire talent to complement its existing teams and help accelerate product development.
Twitter says the startup team will join the Twitter group Experience.org, where they will work on areas that support public conversation on Twitter, including Twitter Spaces and Explore.
Source: TechCrunch
Startup Blameless Raises $ 30 Million to Guide Companies Through Their Software Lifecycle
Blameless announced Tuesday that it received $ 30 million in a Series B funding round led by Third Point Ventures along with participation from Accel, Decibel and Lightspeed Venture Partners.
The Blameless platform provides the context, barriers, and automated workflows for engineering teams to be unified in the way they communicate and interact, especially to solve problems faster as they build their software systems.
Source. TechCrunch
To learn more follow us on any of our social networks like @DaCodes 
Listen to our new podcast"Hola Mundo" available on all platforms!